Section: Property/Business/ MetroM
Date: 22 February 2012
Tan & Tan Developments Launches another Successful Project:
G Residence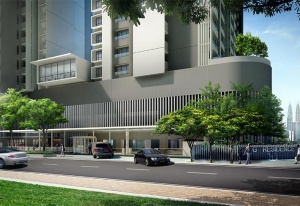 Project
G Residence consists of two blocks of apartments and 2 floors of retail units. The Net Sellable
Introduction
Area (NSA) of residential apartments is 620,000 sq ft and the NSA of retail outlets is 60,000 sq ft. The development is located on a 3.62-acre land along Jalan Desa Pandan and has a total Gross Development Value (GDV) of RM430 million.
Construction
Construction has commenced and is expected to be completed in February 2015. Upon completion G Residence will be the most prominent landmark in the area.
Residential
There are 474 apartments in total, 23-stories high. Unit sizes range from 1080 to1545 sq ft. There are 295 units in Block A and 179 units in Block B. Two car parking bays are allocated for each apartment.
Layouts have been carefully planned to be efficient and relatively spacious in comparison to other city dwellings. Prime units overlook the KL skyline.
Facilities include a Multi-purpose Hall with a breath-taking view of the setting sun over the Royal Selangor Golf Club and the Petronas Twin Towers; a Gymnasium built to allow natural light to illuminate over an indoor garden in the gym providing a natural ambience to your strenuous workouts; and a 30-meters Swimming Pool. There is a playground and wading Pool for the children to play in.
Commercial
Residents will benefit from the convenience of 26 units of retail outlets on the ground and first floor. Retail parking and access is separate from the residences, offering home-occupant's privacy and security.
Location and Conveniences
Conveniently located on Jalan Desa Pandan, G Residence is just a few minutes' drive away from Kuala Lumpur's city center and within the coveted embassy row. Raintree Club is within walking distance as well as other conveniences such as 7-Eleven, KFC, Dunkin Doughnuts and McDonalds.
Target Market
G Residence is built for young professionals, either single or with families, looking for their own living space. It is targeted to those who work in the city.
Pricing and Rental
G Residence is priced at an average price of RM650.00 psf with an expected maintenance fees of RM0.30 psf which includes the sinking fund. Selling price ranges from RM610,000.00 to RM1,000,000.00.
The current rental in the area is from RM4,000.00 for a unit with approximate size of 1,500 sq. ft.
Preview Day
A total of approximately 5000 Privilege Card holders and registrants had their first glimpse of the project during the preview in December 2011. The crowd came and were gathered outside the showroom entrance early in the morning before the doors were open in the holes of selecting their preferred units. A total of approximately 60% from the 474 units were booked.
Press Conference Day (22 Feb)
Mr Teh Boon Ghee (Executive Director of Tan & Tan Developments) announced that as of 22 February 2012, G Residence is 80% sold. Block A is sold out and Block B is 60% sold with 70+ units left.