Jonathan Teoh is like many 30-something year olds – motivated, enthusiastic and busy. BTT sought out the Singapore-based, Malaysia-born architecture graduate who is known amongst his friends to be somewhat of an erudite "home cook", with the intention of finding out his secrets behind healthy home-cooked meals while juggling a demanding career. As he tucks into a less-than-healthy meal of brioche French toast topped with butterscotch banana ('It's my cheat-day,' he says, by way of excuse), he reveals that his passion for good food extends beyond nourishment for the body; he stresses that well-being extends beyond oneself to contributing to the betterment of society.
He spends the better part of the conversation enthusing about TLC – the Truly Loving Company – a brand that sells environmentally-friendly household and personal care products, and gives all of its dividends to charity. He doesn't even work for the brand. Well, not anymore; Jonathan is now working for a renowned Malaysian property developer on projects in Singapore and Iskandar Malaysia, but he did spend a year as an employee of TLC, which was founded by his mother, Julia Chong.
Julia was at the height of her career and enjoying the view from the top of the corporate ladder when she decided to give it all up to start TLC in 2006, with her personal savings no less. Suddenly, she found herself at square one – building the brand from scratch and knocking on retailers' doors to let her products in. Today, the brand is found in large key-account hypermarket and major supermarkets nationwide, including AEON, Giant, Tesco and Cold Storage, and it additionally organises various campaigns to raise even more funds for the less fortunate.
'Another great thing about TLC being a social enterprise is that funds can be channeled to other under-supported enterprises, like old folks homes and animal shelters, which get less attention than other charities,' Jonathan says.
Although Jonathan and the brand parted ways some four years ago ('my mother didn't renew my contract,' he jokes), he lights up when talking about TLC, and its charitable nature and works. He was involved in TLC's Promise Me Campaign, which engaged 90 youth volunteers – from secondary schools, local universities and bloggers – to grant wishes and pledges from different charities, which varied from something as simple as a child wanting to learn how to ride a bicycle to another dreaming of seeing an army parade. Jonathan believes that such social enterprises will have a lasting impact on society. 'Besides cultivating charitable values in these youths who are about the join the workforce, the recipient of these kindnesses would be inspired to pay it forward one day. We are encouraging socially responsible individuals – our future leaders – both ways,' he says.
He adds, 'In my present occupation, I do train younger executives. It's amazing to see the way the next generation works. They are fast and forward thinking; sometimes they surprise me by taking the initiative to complete work before I even knew I needed it done.'
From training and encouraging future leaders, Jonathan envisions a future for himself, which would combine his experience in architecture, property development and social cause into one single enterprise – aged care.
'There is a need for high quality aged care in this country,' he says, 'Here, we could build the perfect community for the elderly amidst a beautiful tropical setting, with architectural designs that allow residents to age with dignity and comfort, supported by a team of healthcare and wellness professionals. The key is in partnering with an established UK-based operator and working with experienced aged care physicians to create purpose-built facilities centered around the physical, mental and spiritual welfare of our future residents.'
The conversation eventually leads to nourishment for the body. Jonathan had always experimented in the kitchen since he was a teen and spent two summer holidays working in the kitchens of Cilantro, the award-winning French-Japanese restaurant in Micasa All-Suite Hotel, where he learnt the basics of culinary art and fusion cuisine. 'I had to beg the proprietor to let me work there,' he says. 'And the experience was invaluable.'
Despite a busy work schedule, he manages to have fresh, homemade food for most of his meals. 'The economy is slowing down in Malaysia, and with the GST about to come into effect soon, everyone will begin to conserve their funds,' he predicts. 'I wouldn't be surprised if people eat out less and cook more.'
Breakfast, we all know, is the most important meal of the day yet the one most often skipped. 'In the mornings, I don't usually have much time, so I'll just blend a lot of fruits and vegetables to make a breakfast smoothie packed with vitamins and fibre,' he says. 'That alone gives me enough energy and sustains me until lunch and sometimes even longer.' He adds, 'It's very important to have a good high-speed blender, like Blendtec, in your kitchen for making smoothies and soups.'
For his lunch, he actually packs food from home. 'The walk to and from the food court takes 20 minutes, the queue for the food takes another 10 to 15 minutes, and you're left with not much time to eat,' he explains. 'I'd rather pack a lunchbox and enjoy a leisurely meal with my colleagues in the pantry.' It does not mean that he spends additional time preparing food; he simply cooks bigger portions each time and stores extra for later meals.
He insists that a hot, freshly-cooked meal can be prepared within 30 minutes, which is what he prepares after he comes home from work. Besides using quick recipes, he makes sure that his kitchen is well-equipped and well-organised, turning cooking into a streamlined production process.
'I cannot stress enough the importance of good fridge management,' he says. 'I use stackable containers and storage baskets to fully utilise the shelf space. This way, I can find the things I want quickly, including the ingredients that had been relegated to the back of the fridge.'
'You don't need many cookware in your kitchen,' Jonathan continues. 'For knives, you'll only need three, but they should be good quality ones: a chef's knife – I like the Victorinox Fibrox 8" or the more expensive MAC MTH-80 8"; a paring knife and maybe a bread knife.' He adds, 'Oh, and a good kitchen scissors, of course – a pair that is sharp enough to help cut up a chicken; much easier than using a knife to do the job.'
He even requires only three types of pots and pans – a non-stick wok, a non-stick frying pan and a pot with a broil basket or sieve insert. 'These are sufficient for you to prepare all your meals, both European and Asian cuisines,' Jonathan says. The sieve, he explains, allows you to remove herbs and ingredients easily when making soups and broth.
He advocates technology that can reduce the cooking time and the number of kitchen tools. Not everyone has the luxury of time or a sprawling kitchen. The latest gadget that has caught his eye is a steam oven that comes with integrated wireless temperature probe, which stops cooking when the food reaches the desired temperature. 'Integrated gadgets like this just makes cooking easier and simpler,' he says.
He keeps a variety of good quality olive oil, vinaigrettes and sauces ('the Sriracha sauce from California is the best chili sauce you can find,' he says), but as space is limited in the kitchen of his apartment in Singapore, he buys other foodstuff as and when needed ('wine, for instance').
Jonathan mostly gets inspirations for recipes from dishes he had tasted in restaurants and attempts to recreate them in his own kitchen, even enhancing them to his own taste. He is an avid reader on subjects of food and nutrition, as well as books that provide him ideas for his quest to nurture more youth leaders.
Last, but not least, Jonathan recommends using a good dish washing liquid and multipurpose cleaner to quickly clean up the kitchen and utensils after cooking. 'Products by TLC, for instance,' he says, sneaking in another mention of the brand. 'They are high quality, effective products that support good causes too.'
---
JONATHAN'S RECOMMENDED READING LIST
BOOKS TO NOURISH THE BODY
---
MODERNIST CUISINE
» Nathan Myhrvold
An encyclopedia of modern cooking based on scientific research principles, new techniques and cutting-edge technology.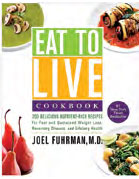 EAT TO LIVE
» Joel Fuhrman
A book that provides critical insights on how the wrong foods lead to over-consumption of calorie-rich and nutrition-poor foods, manifesting in poor health. Several chapters are dedicated to changing the way one eats to live longer, reducing dependency on medication and improving health and well being.

BOOKS TO NOURISH THE SOUL
---
INFLUENCE: THE PSYCHOLOGY OF PERSUASION
» R. Cialdini
A stunning insight into the psychology of the human mind that illustrates how the usage of cognitive triggers can influence decision-making and thoughts to manifest into actions.

THE SERVANT: A SIMPLE STORY ABOUT THE TRUE ESSENCE OF LEADERSHIP
» J. Hunter
Leadership skills taught through the tale of John Daily who attends a leadership retreat at a Benedictine monastery to regain control on his tattered life. As the story unfolds, the reader learns that true leadership diverges greatly from common interpretation.

---
"Motivated, enthusiastic and busy" urbanites like Jonathan do not live a compromised lifestyle;
rather, they build an environment around them that eases their hectic lives.
Stonor 3, one of the lat est condominium projects by Tan & Tan Developments, was designed precisely
to complement the desires of contemporary urbanites. For more information, please call 03 2283 2266
or visit tantan.com.
---
Jonathan's easy and quick recipes:
"My recipe follows a commercial kitchen's process of cooking ingredients in parallel and using time-saving tools to deliver a scrumptious breakfast for friends and family in no time."
Eggs Benedict, in less than 30 minutes

» Sourdough Bread
» ½ block of Butter
» 4-5 Egg Yolks
» 1 tablespoon Mustard
» A few dashes of Tabasco Sauce
» Juice of half a Lemon
» A few strips of Smoked Bacon
» 4-6 Eggs, for poaching
» A handful of Baby Spinach

Switch on the oven to 100°C and throw in some thick slices of sourdough bread.
Fill up a wok with water and set it on the largest burner.
Fire up a non-stick pan on the next largest burner.
Hollandaise Sauce 5 mins
Start melting half a block of butter in a pan.
Separate the yolks from 4-5 eggs and place them into a blender jar.
Add in a tablespoon of mustard – Coleman's is fine.
Add in a few dashes of Tabasco sauce.
Squeeze the juice of half a lemon.
Pour the melted butter into the blender jar and blend on slow pulses till mixed. Leave aside.
Poached Eggs, Bacon and Spinach 20 mins
The non-stick pan is the first to become really hot. Throw in your smoked bacon and fry until crispy.
To poach eggs perfectly, use the PoachPod*, which is a flexible silicon tool for poaching eggs. Don't forget to lightly coat the pods with oil. Crack an egg into each pod and float it in the boiling wat er in the wok.
Once the eggs are about poached (4 mins), remove and immerse in ice-cold water to stop the cooking process.
Bacon should be nicely done by now and can be set aside.
Your pan will still be very hot. Scrape off the bacon bits and throw in the baby spinach t o wilt it.
Plating 5 mins
Take out the sourdough bread from the oven to make the base.
Next, layer on the crispy fried bac on, followed by the spinach.
Remove the poached eggs from the water bath and pop them out of the pods. Place atop the spinach.
Drizzle the hollandaise sauce onto the eggs.
Crack some salt and pepper over your presentation with a battery-operated handheld mill.
Serve and enjoy!
Chimiccurri Sauce (Serves 4)

» 1 cup of Parsley leaves
» 1 tablespoon of Oregano leaves
» 2 cloves of Garlic
» 1 Shallot
» Chilli/Pepper flakes
» 1 cup Olive oil
» Lemon juice (from half a lemon)

Place parsley and oregano leaves, olive oil, lemon juice, shallot, garlic cloves and chilli/pepper flakes into blender and pulse together.
Rest for at least two hours or up to 24 hours. This can be prepared the day before or before you leave for the office in the morning.
Stir before serving with grilled meat of choice.