In the month of June and July 2013, Real Estate Finders hosted a total of 15 open house events in North Klang Valley, which cover the areas of Sierramas and Valencia in Sungai Buloh, Sunway SPK, Menjalara, Sri Bintang and Laman Rimbunan in Kepong. A total of 1,280 visitors attended the events. We also conducted a survey which revealed that 38% are interested in properties priced above RM1 million in the secondary market, provided the price is within the range of bank's value. Surprisingly 68% of them are buying for own stay, targeting high-end properties. Over the years, the rapid developments within North Klang Valley lead to a massive rise in population and tremendous increase in housing prices.
Places like Petaling Jaya and Kota Damansara have been transformed into commercial hubs with comfortable homes for high-income-level families. This has initiated an interest in properties nearby such as Kepong and Sungai Buloh, especially in prestigious housing areas such as Bukit Rahman Putra, Sunway Rahman Putra, Sierramas, Desa Parkcity and Valencia. These developments were mainly landed properties with low density, guarded and gated to ensure the safety and comfort of the residents. This supports the Urban Spatial Structure theory that high-end residential zoning would nestled out of the Central Business District (CBD) because high income groups prefer houses with better quality and size within close proximity to the CBD area but with lower density.
Residents of Sungai Buloh and Kepong prefer living in the area and they hardly move out to other areas. This can be due to the lifestyle, good environment and friendly surroundings. However, they will search and upgrade to bigger homes when their family expand or when they achieve a higher income. There are many who would also buy new houses for their children within the vicinity when their children get married.
Most of the developments here are landed properties and have been launched gradually throughout the years. For example, the developer of Sierramas has merely focused and launched new projects once in every few years and due to the limited supply, prices of homes have grown steadily.
Below are transaction prices of landed residential properties in North Klang Valley from year 2008 to year 2012:
Transaction prices in North Klang Valley particularly Desa Parkcity, Sierramas and Bukit Rahman Putra have been significantly increasing from year 2009 to year 2011 due to the completion of upgrading works at Sungai Buloh and Kepong since year 2005, which has eased the traffic congestion in the area. Also, the announcement for the construction of the MRT terminal in Sg Buloh will result in a continuous support for the uptrend of property market value in the surrounding area. The MRT route starts from Kajang, (South Klang valley), links to Cheras, towards the City Centre of Kuala Lumpur, Petaling Jaya, Damansara and end in Sungai Buloh. It is currently one of the most important focal point in the Greater Kuala Lumpur plan. When the MRT is completed, it will be convenient for the residents of Sungai Buloh and Kepong to travel to work in the city centre while living in the suburb of North Klang Valley. See more here.
Sales Manager of Real Estate Finders, Raphael Wong, found that the demand of residential properties in Sierramas and Bukit Rahman Putra remains strong since majority of the buyers are buying for own stay. From the year 2008 to year 2012, the annual house prices in Kepong and Sungai Buloh have increased with an average of 15% and 10% respectively.
Sierramas which is developed by Kumpulan Sierramas Sdn Bhd (a joint venture company between KL-Kepong Property Holding Sdn Bhd and Tan & Tan Developments Berhad) is the first gated and guarded community in Malaysia and it has driven the overall price movement of the residential market in North Klang Valley. Sierramas has also developed into a very successful and prestigious development. The current prices for various types of properties have been increasing since the developer's launch price as illustrated in the table below: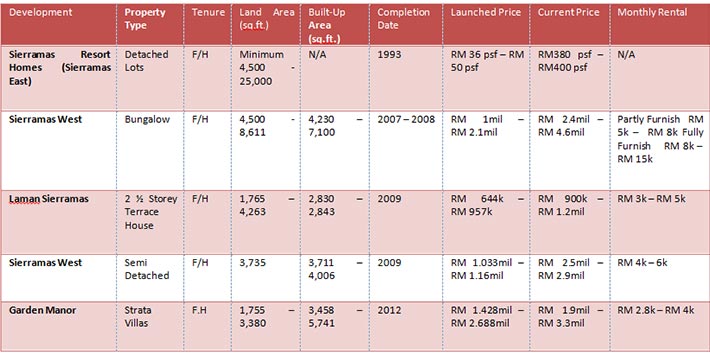 We foresee that the rental market in Sierramas and the neighbourhood will remain stable and is expected to continuously grow due to the limited supply in Sierramas and the upcoming construction of IGB International School which will be completed in the 3rd Quarter of year 2014. Based on research by Real Estate Finders, the average rental for typical 2½ storey Terrace houses ranged from RM3k to RM5k and RM4k to RM6k for Semi-D houses, while Bungalow houses depending on their interior design concept and furnishing, could fetch up to RM15k per month, the highest rental recorded in 2013, says Raphael.
Wise planning is a crucial element in a township development in determining the future demand and value appreciation of the properties, while planning for commercial activities should be aimed to cater to the basic needs of residents, not to create a crowd and traffic congestion in the residential area. Sierramas had done it right, up-to-date, they have allocated Jaya Grocer, a branded grocery store in the community and everyone here just love it.